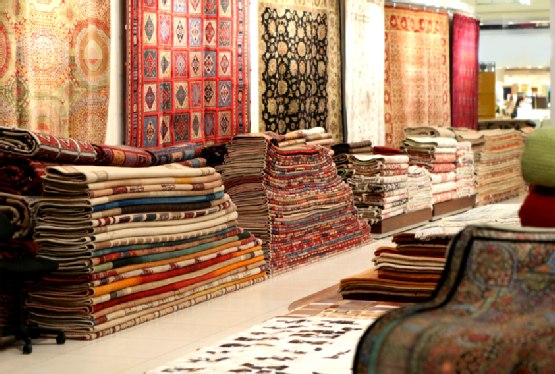 Expert rug enthusiasts can distinguish a carpet's origins from its signifying weaves. Learning about notable weaves can help you spot a hidden gem at a local antique store.
Classic Kilims: Designed for prayer and decoration, the kilim rug hails from the Balkans in Pakistan. The Turkish word kilim is derived from a Persian word that means spread roughly. This fits the flat surface characteristics of the kilim-style weaving techniques. These rugs owe their unique surface to the weft-facing weave style. In this weave, weft (horizontal) fibers are woven tight enough to hide the warp (vertical) strands, creating a smooth rug with a little pile. Kilims are also classified as "slit woven" rugs because of the geometric boundaries that separate tones and shades.
Konieh Weaves: Rugs from the Turkish province of Konieh have long been praised for their thick and even pile. These days, Konieh weaves are notable for using a wide variety of yarns in their warp threads. It is not uncommon to spot diverse use of color in one rug and many Konieh rugs include the use of hexagons, flora motifs, and warm Persian colors. Use of sharp angles and narrow borderlines also set the Konieh weaving style apart.
 
Azerbaijan Designs: The bazaars of Tabriz have been a center for exotic rug trade since ancient Persia. Today, the rugs from this region are still known for their sturdy and compact weaving techniques. The weave design features hundreds of knots hand-tied in spaces as small as a square inch. This attention to detail is also reflected in the Tabriz style's highly ornamental designs. Lush depictions of vines, leaves, and flowers are depicted in rich color. These pastoral elements are used to complement bronze and gold pendant shapes used to evoke the architecture of a mosque.
The best Oriental rug cleaners are knowledgeable enough to restore a wide range of weaves and styles. Visit the carpet and rug experts at Hadeed Oriental Rug Cleaning to learn more tips for keeping your rug in great shape. Log on to our website or call us at (703) 241-1111 for more information.